Custom Search
White County Georgia Waterfalls
Raven Cliff Falls is most unusual, the water flows through a split in the face of a solid rock outcropping to the ground, 100 feet below. Behind the split, the water drops about 60 feet and then rushes through the rock face and drops 20 feet into a deep pool. The water then spouts down 20 more feet to Dodd Creek. Three other waterfalls can be found on Dodd creek, the largest with a height of 70 feet.
Directions:

From Helen, Georgia take GA 75 north for 1.4 miles, and turn left to the Richard Russell Scenic Highway (Highway 348). Turn right and go another 3 miles. Parking is available on the left shoulder of the road. Look for trail signs and blue blazes marking the trail to the falls.

Trail Information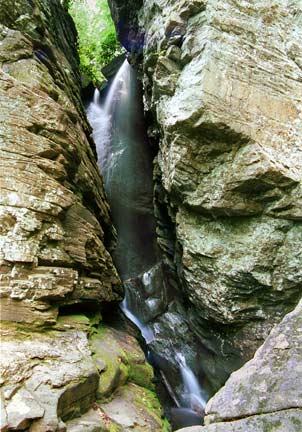 Photo By Jack Anthony
For more wonderful photos and a preview of Jack Anthony's photographic book about Dahlonega, visit his web site.