Custom Search
Located in the North Georgia Mountains, Fannin County offers a variety of outdoor recreation choices. There are 20 hiking trails, 9 bike trails, a horse trail, 6 publicly owned camping areas and 5 waterfalls. In the Fannin County Georgia section you will also find information about local businesses such as Motels, Cabin Rentals, Real Estate, Photographers, Home Builders and Restaurants.
Fannin County is home to the cities of Blue Ridge, McCaysville, Mineral Bluff and Morganton and is bordered by the counties of Gilmer County Georgia, Union County Georgia, Lumpkin County Georgia, Polk County Tennessee and Cherokee County North Carolina.
Fannin County was created in 1854 from parts of Gilmer and Union counties.
Take a photo tour (with some artistic touches) of Downtown Blue Ridge.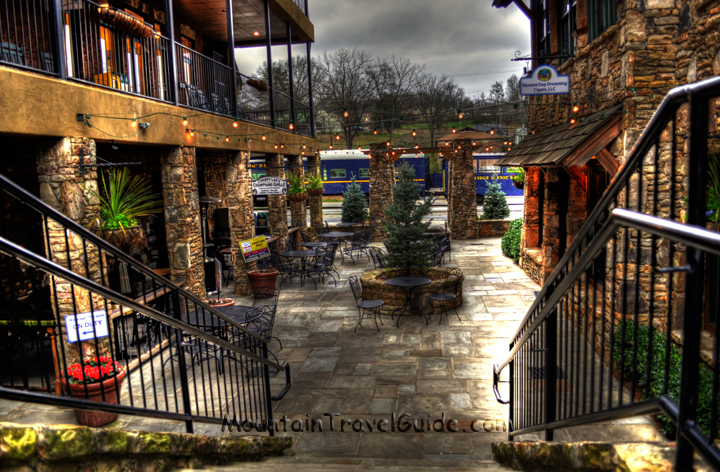 A few of the many wonderful shops and restaurants in Downtown Blue Ridge
Blue Ridge Scenic Railway Train in background.
Fannin County residents and visitors enjoy several annual events. Held each Memorial Day weekend, the Arts in the Park Festival in Blue Ridge attracts over 20,000 people. Several local churches in Blue Ridge host an interdenominational Labor Day Barbecue each year at the town's historic railroad depot. A Mountain Harvest Sale featuring handmade quilts, baskets, and pottery is held on the third and fourth weekends of October at the Blue Ridge State Farmer's Market.
The U.S. Fish and Wildlife Service operates a cold water fish hatchery in Fannin County. The Chattahoochee Forest National Fish Hatchery raises rainbow trout to stock streams, lakes, and reservoirs throughout North Georgia.
Parts of the Chattahoochee National Forest and Cohutta National Wilderness Area are in Fannin County. The Cohutta Wilderness Area is the largest national wilderness area east of the Mississippi River.
Water resources are plentiful in Fannin County. Blue Ridge Lake in the center of the county impounds part of the Toccoa River, which flows into Tennessee and becomes the Ocoee River, site of the 1996 Olympic whitewater events. Jacks River, Fightingtown Creek, and Rock Creek also flow through the county.
Outdoor recreational opportunities are also plentiful within Fannin County. Campers, hikers, nature lovers, and anglers enjoy the Chattahoochee National Forest and Cohutta Wilderness Area. In addition to these federal facilities, local parks include the Horseshoe Bend Park, the Blue Ridge City Park, and the McCaysville City Park.