Custom Search
Fannin County Georgia Hiking Trails
Fall Branch-Weaver Creek Trail
Length: 6.0 miles
Rating: Moderate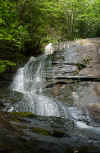 Fall Branch-Wesver Creek Trail offers a very pleasant hike past waterfalls, through hardwood forest, wildflowers and magnificent panoramic views.
This trail offers a very pleasant day hike, first past a double waterfall, then through typical Southern Appalachian hardwood forest with a variety of trees, shrubs and wildflowers, then over a ridge offering views of distant mountains, valleys and Lake Blue Ridge, with a final pleasant downhill hike to a pastoral valley. Note: This is an in and back trail. Trail begins on north side of road and climbs gradually toward summit of Rocky Mountain. At one-fourth mile a short unmarked side trail leads to USFS observation platform at base of Fall Branch Falls.
Beyond the falls, the trail switches back through general forest, past an old timber cut and continues to intersection with Stanley Gap Trail at 1.0 mile. Turn northwest on trail and begin long ascent of Rocky Mountain. After gaining ridgeline there are views to east of Lake Blue Ridge. Descend to saddle, climb spur of Davenport Mountain before turning west to begin descent toward Scroggin Knob. From Scroggin Knob descend to Weaver Creek-Laurel Creek watershed divide.
Directions from Blue Ridge, Georgia:
Travel east (toward Blairsville, GA) on GA Hwy 515, approx. 0.8 miles past intersection with GA Hwy 5. Turn Right at Windy Ridge Rd., go 0.2 miles to dead end with Old U.S. 76. Turn left, go 0.2 miles to Aska Road. Turn right on Aska road to Stanley Creek Road (8.0 miles). Right on Stanley Creek Road 3.2 miles to trailhead. If Weaver Creek trailhead is desired, follow directions above to Aska Road, turn south 1.1 miles to County Road 31, turn right and follow 4.0 miles to USFS boundary and small parking area. Road.