Located in downtown Murphy, North Carolina, the Murphy River Walk, when completed, should travel around 3 miles. With it's completed section traveling along Valley River, Murphy River Walk offers a mixture of shade and sun as it passes the trees along the river. The paved, family oriented section of trail along the north side of the river travels from the Hiwassee Valley Pool & Wellness Center and city playground, under Valley River Avenue and enters Konehete Park.
Traveling along the river through Konehete Park, Murphy River Walk passes the city baseball/softball fields. In addition to it's ball fields, Konehete Park offers restrooms at several locations. At the end of Konehete Park, Murphy River Walk reaches it's end.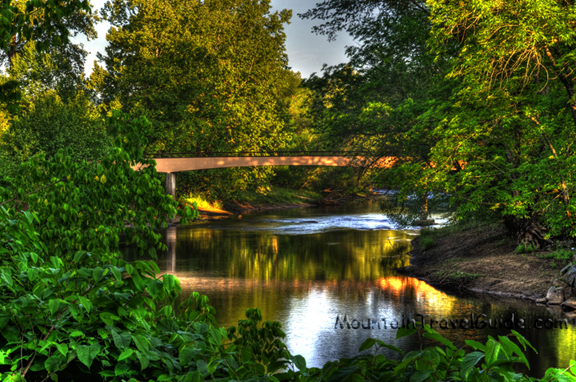 River Walk Bridge
Traveling across the bridge (above) located at the city playground and Hiwassee Valley Pool & Wellness Center takes the walker to the south side of Valley River. Remaining paved for some distance, Murphy River Walk becomes a gravel walk to it's present end along Tennessee Street. The trail continues along the Hiwassee River offering some great views of the river, and rock formations. Ending at the L & N Depot, you may return as you came, or turn left and travel along the sidewalks of Murphy, passing several great shops, restaurants, coffee shops and even an old fashion soda shop located within Parker's Drugs.
A personal note. I walked this with my Daughter, Keela (4 years old at the time). We traveled from the tennis courts, crossing the bridge and following the trail to the Depot. At this point my Keela was beginning to reach the end of her distance ability. Faced with carrying her back along the trail, I bribed her into town with the promise of ice cream. Traveling uphill along the sidewalks of Murphy we stopped at Parker's Drugs. Taking a break at their soda shop inside, Keela was re-energized for the downhill (mostly) walk back to the park/car. Of all the hikes we have traveled, this is by far the most memorable for me and one she still talks about.
More Photos taken along Murphy River Walk
To view a map of Murphy River Walk, with trailhead and parking locations visit: http://www.heritagepartners.org/River%20Walk%20Map%206-09.pdf