Custom Search
Cherokee County North Carolina
Murphy Church of Christ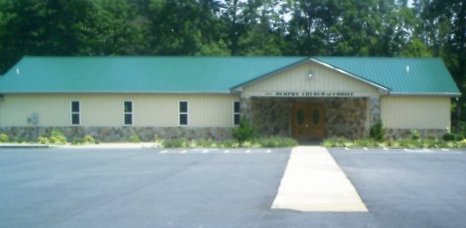 Murphy Church of Christ


311 Church of Christ Road
P.O. Box 511
Murphy, NC 28906
Phone:(828) 837-4371

Minister:

Phone: (828) 494-9333

MISSION STATEMENT


Humbly seeking to glorify God by loving one another, serving our community, spreading the good news of Jesus Christ, and worshipping God in Spirit and Truth

Worship Schedule:

Sunday Morning Bible Study 9:45 a.m.

Sunday Morning Worship 10:45 a.m.

Sunday Evening Worship 6:00 p.m.

Wednesday Evening Bible Study 7:00 p.m.

The first Sunday of each month is our Friends and Family Day. On this day we have a luncheon after services, followed by games, singing and a brief devotional. We do not have evening services on this day.