Custom Search
Bledsoe County Tennessee Waterfalls
Located within Fall Creek Falls State Park, the 256 feet Fall Creek Falls is one of the highest waterfalls east of the Rocky Mountains. Accessed via the Woodland Trail which begins behind the Nature Center at Fall Creek Falls State Park, Fall Creek Falls offers a shaded pool at the base of it's gorge. In addition to the beauty of Fall Creek Falls itself, Woodland Trail crosses Cane Creek Cascades along a swinging bridge before reaching the steps up to Fall creek Falls Overlook.
Directions:
From Nashville take I-40 East to Cookeville. Turn right onto 111 South (exit 288). Park entrance is on the left on Highway 284 (45 miles).
From Knoxville, take I-40 West to Crossville to Peavine (exit 322). Take a left off the exit, turn right at the light and follow Highway 101 to Highway 30. Turn right on Hwy 30, park entrance is approximately 6 miles on the left.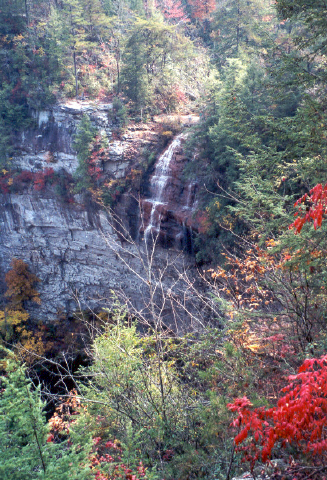 From Atlanta, take I-75 North to Chattanooga, take I-24 toward Nashville, take Hwy 27 North toward Dayton and follow Highway 111 North to the park entrance on the right.