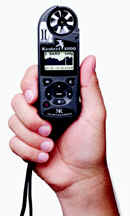 Kestrel® 4000
Pocket Weather Tracker
The Kestrel 4000 by Nielsen-Kellerman may weigh in at just 3.6 ounce, but this little powerhouse really packs a meteorological punch. The handheld weather station measures barometric pressure, altitude, density altitude, temperature, humidity, wind speed, wind chill factor, dew point, wet bulb temperature and heat stress. More importantly, the Kestrel 4000 will record and graph up to 250 measurements, along with the date and time of storage giving you a record of the past while helping you prepare for the future.
The time interval at which these measurements are taken is controlled by the operator which allows you to choose the intervals which best fits your needs. The unit will even record these measurements while turned off.
Personal Experience
My Kestrel 4000 was delivered to my home on a Friday while I was out of town and was placed on my front porch by the delivery service. I arrived home late Sunday night to find it. While driving back into town to pick up a few items the same night, my wife with the help of the backlight button set up the unit and began to deliver a blow by blow account of what the weather had been like over the past few days while we were away. She was able to do all of this while the instruction booklet was still at home in the box.
With the barometric pressure on the pocket weather station showing a slow rising trend we awoke to a somewhat clearing sky Monday morning. By late morning we noticed a rapidly dropping pressure and quickly rescheduled our outdoor photo secession we had booked for late Monday afternoon. The proof of the Kestrel 4000's abilities came in the form of rain....a LOT of Rain.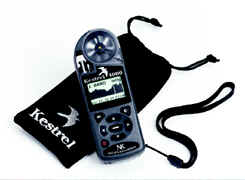 Dynamite really does come in a small packages in this pocket sized weather station.
To find out more information about the Kestrel® 4000 visit their web site http://www.nkhome.com/ww/4000/4000.html#