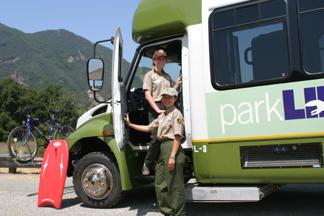 How to Catch the Shuttle:
Via Metro Bus: Take Metro bus 434 from downtown LA or Santa Monica to shared stops in Malibu (Crosscreek) or along the Pacific Coast Highway. Transfer to the ParkLINK shuttle within 30 minutes. As a reward for taking transit and leaving your car at home, we'll honor your Metro Day Pass.
Via Car: Park and Ride: Park your car at any of the parking lots along the route. Free parking is available at all National Park Service sites. California State Parks gives a $2 discount off the regular $8 parking fee to shuttle users at Malibu Creek and Tapia.
Information provided by the National Park Service. For more information visit the official Santa Monica Mountains National Recreation Area ParkLINK Shuttle web site.